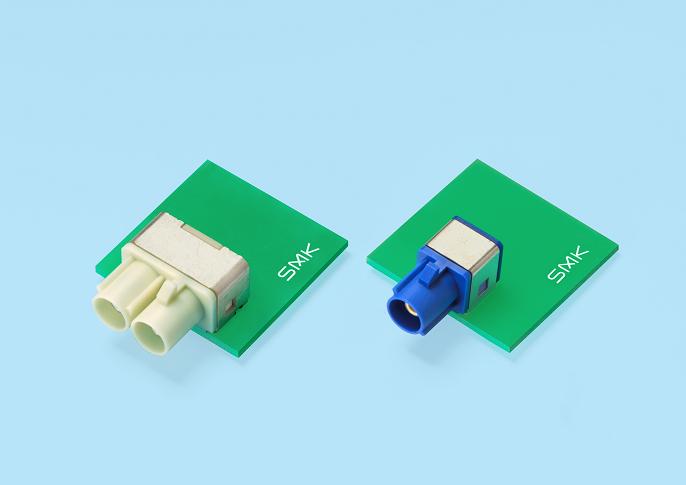 SMB coaxial connector plugs for PWBs (DIP type) with a molded locking provision for automotive applications developed and marketed
It has been some time since we put on the market the well-accepted VC series SMB coaxial connectors with a molded locking provision. At this time, we are pleased to announce that our efforts to optimize the repertoire of the series resulted in the successful development and commencement of marketing of a PWB plug (DIP type). Specifics of these plugs are given below.
This VC series is an SMB (Sub Miniature type B) based coaxial connector employing a molded locking system for automotive applications (connection of automotive equipment and an antenna). It is a standard choice with European automakers. Use is expanding among their American counterparts.
Its mounting system on PWBs is the DIP system. With the shielding case found on the product body structured to be soldered at the same time, excellent mounting strength on PWBs is ensured. The repertoire includes both Single type and Twin types.

Date Released
Jan. 27, 2009
Press Release No.
847cs
Product Name

VC series SMB coaxial connector with a molded locking provision
Plugs for PWBs (DIP type)
Drawing Nos.

CRC5001-19XXF (Single type)
CRC5002-11XXF (Twin type)
Features

1) Complete connection is ensured by the push-on type molded locking system.
2) The DIP system is employed for mounting on PWBs.
3) With the operating frequency range widely extending from DC to 4 GHz, highly matching superb RF characteristics are featured.
4) Excellent mounting strength to PWBs is ensured.
5) The repertoire includes both Single and Twin types.
6) The Twin type is 8.0 mm pitched.
7) The RoHS Directive is complied with.
Major specifications

Voltage and Current Rating
1A, 250V AC
Frequency Range
DC to 4 GHz
Nominal Impedance
50Ω
V.S.W.R.
1.3 max. (DC to 4 GHz)
Operating Temperature Range
-40℃ to +105℃
Applications
Automotive equipment (satellite radios, radios, car navigation equipment, car audio equipment, TVs, GPS equipment, etc.)
Market introduction
Jan. 2009
Production capacity
300,000 units/month
Inquiry
* For more information, please contact the CS Division
Fax : 81-3-3785-0517