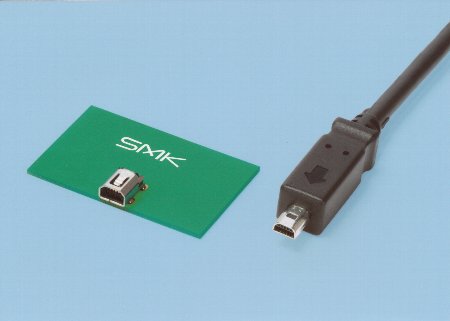 USB2.0 Hi-Speed specification compliant industry's smallest "ultra-small 5-pin connector" developed
We are pleased to announce the development and commencement of shipment of samples of an "ultra-small 5-pin connector." Specifics are outlined below.
In recent years, there has been greater demand for higher signal transmission speeds as small equipments such as mobile phones and DSCs have been made more functional. Subsequently, connectors for external connection are also required to be able to handle higher transmission speeds in a smaller configuration.
This new product is an interface connector of an ultra-small 5-pin design with USB2.0 Hi-Speed signal transmission capability. Designed for a maximum transmission speed of 480M bps, this connector is highly recommended for connection of small equipment such as mobile phones, DSCs and portable music players to PCs and for rechargers.
The size of this connector is the smallest in the industry (37% reduction in footprint when compared to our previous Micro-USB connector) for better PWB area effectiveness and for further downsized equipment design. Further, consideration is given to possible EMI problems by the employment of a fully shielded structure.
Date Released
Dec. 3, 2008
Press Release No.
844cs
Product Name
Ultra-small 5-pin connector
Drawing Nos.: Receptacle
CSS5005-8T01F
Plugs
CSC1005-3F01F
Features

1) Capable of transmitting USB2.0 Hi Speed (480M bps) signal.
2) Anti-EMI measure provided by employment of a fully shielded structure.
3) Receptacle as ultra-small as 4.6 mm wide x 5.8 mm deep x 2.8 mm high.
4) 5 pins with 2 for power and 3 for signals.
5) Provision of a time lag structure for sequential contact of the power line and the signal line.
6) Stable connection/removal of the receptacle and the plug with a half-locking structure.
7) Enhanced mounting strength of the receptacle by using a through-hole system with the shell.
8) RoHS Directive compliant.
Major specifications





Voltage and Current Rating
0.5A, 30V AC
Contact Resistance
30mΩ max.
Insulation Resistance
1000MΩ min. at 500V DC
Withstanding Voltage
500V AC for one minute
Operating Temperature Range
-20℃ to +70℃
Operating Life
5,000 cycles
Applications
Small equipment such as mobile phones, DSCs, portable music players, PDAs, etc.
Inquiry
* For more information, please contact the CS Division
Fax : 81-3-3785-0517