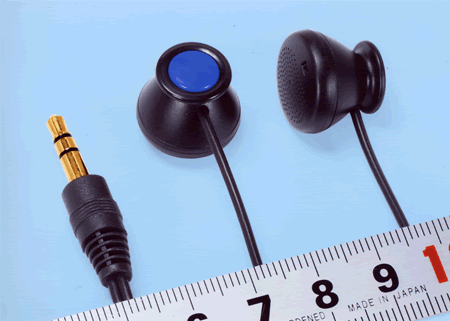 High sound quality earphone developed
We are pleased to announce the development and commencement of marketing of an open type "high sound quality earphone" (FX5005) intended primarily for mobile phones and silicon audio equipment. Specifics of this earphone are given below.
Prevalence in recent years of portable audio equipment and music distribution services via mobile phones has required higher sound quality in earphones.
The development of this high sound quality earphone responds to such needs.
This new product employs a ductless structure made available by the use of our exclusive sound design and excellent sound quality and superior wearing feeling have been realized.
Date Released
Oct. 21, 2008
Press Release No.
838fc
Product Name
High sound quality earphone, FX5005
Features

1) The ductless structure allows restriction-free wearability.
2) High quality and powerful sound reproduction are a reality through the use of neodymium magnet.
3) The RoHS Directive is complied with for consideration of the environment.
Major specifications
Type
Open dynamic design
Output Sound Level
5 dB/mW (Input: 1 mW @ 1kHz)
Maximum Input
50 mW
Impedance
16Ω (Input: 1 mW @ 1kHz)
Plug
φ3.5 mm stereo mini type
Applications
Portable audio equipment, mobile phones, etc.
Commencement of marketing activities
Oct. 2008
Inquiry
* For more information, please contact the FC Division
Fax : 81-3-3785-7166