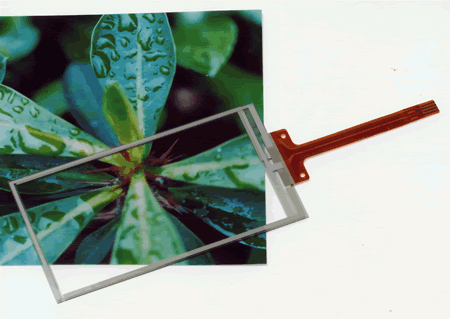 Resistance sensitive touch panel
with industry's top level of transparency developed
We are pleased to announce the development of a high transparency-series resistance sensitive touch panel. Since it is very transparent, the "presence of a touch panel may not be visually sensed" by users.

Touch panels that can be operated by the direct touch of a finger or a pen on the screen are seen in many places. However, due to reflection of the user's background on the screen, depending on the application environment, or loss of LED light causing reduced visibility of screens, improvement has long been a market requirement.

The cause of the reduced visibility is attributable to reflection of light on the surface and the inside of touch panels.

To solve this problem, we jointly developed a highly transparent film for touch panel applications with a film manufacturer.

The film we succeeded in developing this time is treated for suppression of light reflection at interfacial boundaries. The combined use of this film and high transparency glass has made it possible for a resistance sensitive touch panel featuring the industry's top class transparency of 93% to be created.

Our main marketing strategy for this touch panel includes approach to the markets for various types of information terminal equipment.


Date Released
Mar. 17, 2008
Press Release No.
812tp
Product Name
High transparency series resistance sensitive touch panel
Features

1) Less than 5% reflection by application of an anti-reflection (AR)finish.
2) Clear finish for ensured sharpness.
3) Applicable to film/film type products in addition to film/glass type products.
Major Specifications
Transparency
93% max.
Reflectance
5% max.
Haze Value
1% typical
Applications
Notebook PCs, UMPCs, SmartPhone, photo printers, etc.
Production Capacity
400,000 units/month when converted into 3 inch sizes
Inquiry
* For more information, please contact the TP Division:
Fax : 81-3-3785-2904