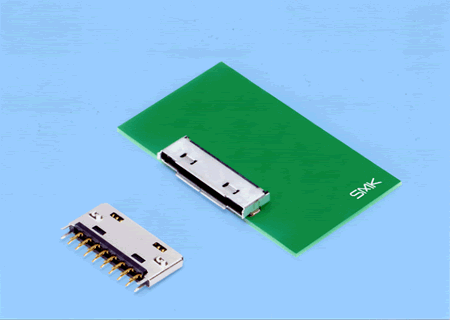 16P (poles) interface connector
highly strong 2.0 mm joined height
We are pleased to announce the development and the commencement of marketing of a 0.8 mm spacing 16P (poles) interface connector for mobile phone applications, specifics of which follow.
Recently, the market has required components for smaller and thinner portable equipment such as mobile phones, as they are further downsized, to be smaller and shorter.
This new product has a short 2.0 mm profile when the plug and receptacle are joined. We have made such a height, one of the lowest dimensions in the mobile phone market for external connection, possible by application of an FEM simulation, high-precision die stamping and molding technologies for the plug spring.
Its plug-in contact structure provides high reliability. The employment of a through-hole structure for the receptacle and excess-travel stopping structure for the plug provides sufficient strength against skewed plug insertion or dropping.
A half-locking system is used for easy engagement of the plug and the receptacle. High strength and ease in use, yet small and low profile design, are compatibly available.
Date Released
July 27, 2007
Press Release No.
792cs
Product Name
16P(pole) interface connector
Drawing Nos.
Plug : CSC1016-99XXX
Receptacle : CSS5016-5CXXX
Features

1) Its plug-in contact structure provides high reliability.
2) Its profile is only 2.0 mm when joined.
3) The strength in the plug insertion direction is increased by the use of an excess-travel stopping structure.
4) The receptacle has greater mounting strength due to the use of a through-hole system with its shell.
5) A guiding function by means of the receptacle flange is provided.
6) The joining system consists of a half-locking system.
7) RoHS Directive compliant.
Major specifications
Voltage and Current Rating
0.5A, 100V AC/DC
Contact Resistance
50m Ω max.
Insulation Resistance
1000M Ω min. at 250V DC
Withstanding Voltage
300V AC for one minute
Operating Temperature Range
-30 °C to + 80 °C
Operating Life
10,000 cycles
Applications
Small portable equipment such mobile phones
Market Introduction
July, 2007
Production capacity
1,500,000 units/month(receptacle)
Inquiry
* Please contact CS Division for further information :
Fax : 81-3-3785-0517