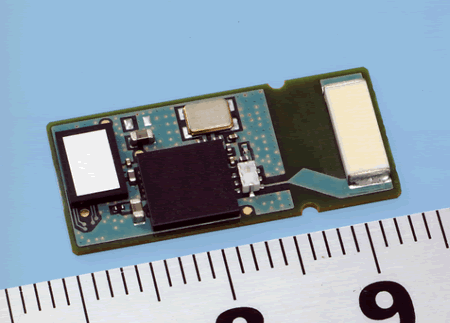 Bluetooth
®

serial port adapter, BT301, developed

We are pleased to announce that we have developed and commenced marketing of the BT-301 Bluetooth® serial port adapter, specifics of which are outlined below.

The market requested our previously marketed serial port adapter BT201 model be 1) lower in profile, 2) capable of communication using commands, and 3) changeable of settings after installation in equipment of the module. The development of this BT301 not only answers such market requirements, but offers about 30% reduction in price from its predecessor, BT201.

This product is a wireless communication module which facilitates wireless communication of equipment featuring a serial interface.

Please note that our plan calls for additional products that will be compatible with the DUN (Dial-Up Networking) profile one after another.
Date Released
July 11, 2007
Press Release No.
791rd
Product Name
Bluetooth

®

serial port adapter, BT301
Features

1) A surface mountable module with an antenna.
2) Supports the serial port profile (SPP).
3) Connectable in 2 ways; by the use of our exclusive AT commands, and via an automatic mode where connection will be automatically made to the other end.
4) Switching of Master/Slave or change of various settings via a HOST of an upper level.
5) Compatible with Version2.0+EDR.
6) Will be certified for the Bluetooth

®

Logo.
7) RoHS Directive compliant.
8) A kit and module for evaluation are available with which evaluation is a matter of ease if connected to a PC or an existing serial equipment.
Major specifications
Compliant Bluetooth

®

Specifications.
Version2.0 +EDR
Power Class
Class 2
Usable Profiles
GAP (Generic Access Profile) and
SPP (Serial Port Profile)
Supply Voltage
2.7 - 3.6V DC
External Dimensions
23mm x 11mm x 2mm
Operating Temperature Range
-40°C to +85°C
Applications
Portable terminals, bar code readers, portable printers, label printers, RF-ID readers, measuring instruments, electronic balances, various meters, health care products, etc.
Market Introduction
(Sample shipment )
Sept., 2007
Market Introduction
(Production commencement)
Oct., 2007
Inquiry
* Please contact R&D Center for further information :
Fax : 81-3-3785-2804