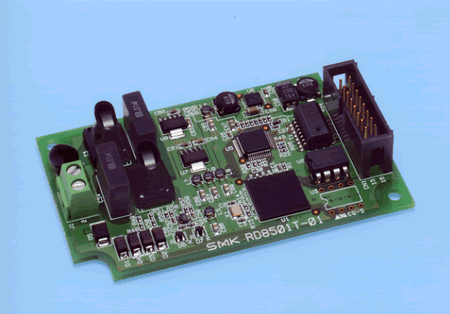 14M bps PLC module developed
We are pleased to announce that following the Japanese Ministry of Internal Affairs and Communications lifting the ban on high speed power line communications in October 2006, we have developed for domestic applications a high speed 14M bps PLC module for use in many types of equipment. Sample shipments are scheduled to commence in Sept. 2007. Specifics of this module are outlined below.

This product is a module which allows information signals to run through 100V/200V AC power lines. To facilitate easy installation in various types of equipment, it is as small as a business card. A noise reduction circuit, if mounted, will reduce noise leaks and stable communication quality will be realized.

High speed communication of a maximum of 14M bps will be possible with equipment in which this product is built in, via existing power lines without the necessity of additional communication lines, and a network can be easily built.
Date Released
June 26, 2007
Press Release No.
788rd
Product Name
14M bps PLC module
Features

1) A small PLC module (business card size).
2) No distinction between masters and slaves.
3) RoHS Directive compliant.
4) Development supporting tool to assist building-in operations available.
Major specifications
Communication Speed
14M bps max.
Network Interface
Ethernet 10Base-T/100Base-TX
Usable Power Line
100V/200V AC, 50/60Hz
Supply Voltage
5V DC
Applications
Equipment carrying an Ethernet port.
Market Introduction
Sept., 2007
Inquiry
* Please contact R&D Center for further information :
Fax : 81-3-3785-2804